Somos Ohana Nicaragua – History
1999 – We volunteered to help in the re-construction period after Hurricane Mitch. Dan helped affected villagers build their small brick homes. Charlotte (an RN) worked alongside the local medical teams caring for the sick.

2000 – 2005 We helped set-up and train villagers to open a cabinet-making shop for the men, and a sewing coop for the women.
We started a travel fund for patients with cancer to access their medical treatments in Managua (4 ½ hr. trip from Villanueva).
We awarded our first scholarship grant for university education to a young woman of a very poor family.
We helped to fund the building of a Shelter for Mothers next to the Maternal-Infant Care Hospital in Chinandega with the Rotary Club of Chinandega, Manos Juntas of OK, and the Danielle Whalen Memorial Foundation of NY.
Also, built brick homes for 2 extremely poor families whose children had serious medical and developmental problems.
Volunteer John Flavin joined us in 2000, and has been accompanying us through 2015.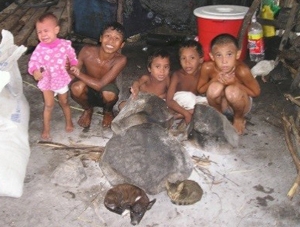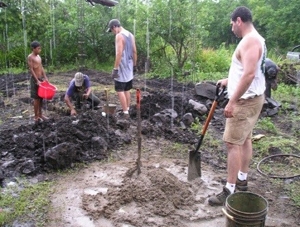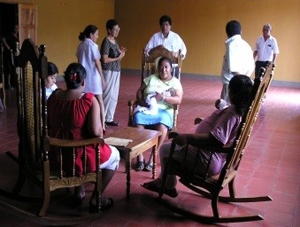 2006 – Somos Ohana Nicaragua is registered in the State of Hawaii as a non-profit corporation, and was approved for public charity status as a 501 (c) (3); (EIN: 20-4289482). We have a volunteer Board of Directors of 9 professional adults. No one receives a salary; travel to Nicaragua is paid for by each volunteer; 97 % of donations go directly to projects in Nicaragua; the other 3% goes to administration and fundraising.
Three classrooms were built to accommodate the overflow students in the primary school of Canafistola.
First young woman on scholarship graduated from university with a degree in psychology.
Donation of upgraded sink and cabinets for Lab in Maternal-Infant Hospital in Chinandega.
2007 – Built a local brick home for a homeless family with 12 children.
First hands-on PT services to children with mobility problems provided by volunteer Jim Kahler, PT of Maui. His services continue through 2015.
A large donation from In His House of Restoration Church, and the Danielle Whalen Memorial Foundation provided a solar-powered water system for the community and school in Cañafístola.
Two volunteer university students collected enough donations to provide a cow to each of 5 extremely poor families, and 5 chickens and a rooster to another.
Volunteer librarian from Panama set up a library in the primary school of Canafistola.
2008 – Built first 3 classrooms for secondary school in Rincon de Garcia.
Somos Ohana Nicaragua Mission 2008
First male student on scholarship graduated with degree in veterinary medicine.
Donations of a laundry area for Maternal-Infant Hospital in Chinandega and printer to the Pediatric Department.
2009 – Built final classrooms to complete secondary school in Rincon de Garcia.
Bicycle program started: 15 students from Mayocunda (farthest village) received bikes to help them get to classes in Rincon de Garcia.
Volunteer speech pathologist/therapist, from NJ, provided evaluation & therapy to >42 children in the municipality of Villanueva.
Donation to Maternal-Infant Hospital in Chinandega to renovate bathrooms in Shelter for Mothers.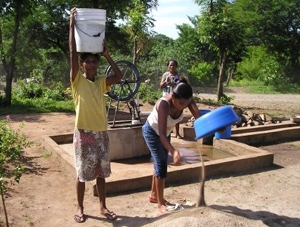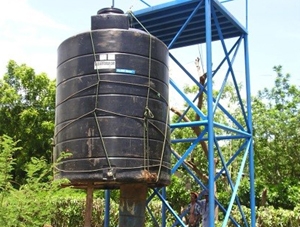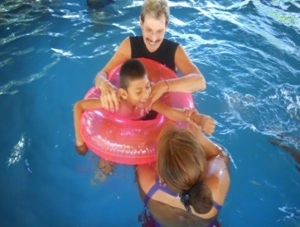 2010 – Reconstructed the primary school in Mayocunda.
Started building a pre-school in Rancho Pando.
Provided physical therapy to about 60 children and adults with special needs.
Retired teacher/volunteer, Mele Stokesberry of Maui, set up the library in secondary school in Rincon de Garcia.
Bicycle program continues for incoming students from Mayocunda to attend secondary classes in Rincon de Garcia.
2011 – Swim therapist, and Special Olympics coach, Marie White of Maui, offered 20 children with special needs and their caregivers swim classes at a private pool at the Finca San Ignacio, donated by a local rancher.
An extraordinary recovery witnessed: when a young man who suffered a stroke in his childhood, wheelchair bound for 20 years, started walking, after family helped him continue his daily strengthening exercises for months, following instructions of our PT!
Partnering with Amigos for Christ, we witnessed the foundations of the solar-powered water system for Rincon de Garcia.
Pre-school in Rancho Pando is completed; also used for visits by Villanueva nurses for well-baby clinics.
First mother of 4 children on scholarship graduates from the National University as a licensed professional teacher.
More "bikes and books for schools" takes on momentum as donors in 5 states answered the call for help.
2012 – First-ever day camp for children with special needs celebrated with 40 children and their caregivers over a 2-week period. When asked if they would like the camp opportunity again, all replied, "Si!"
Pre-school in La Esperanza is completed.
The solar-powered pump and water system for 3 schools and 90 families in Rincon de Garcia was inaugurated on July 13th while we and our volunteers were there.
Veronica Mendoza, a scholarship student of El Bonete, graduated with honors from the National Normal School in Chinandega. She is the pre-school teacher in her village, and the principal support person for 3 younger siblings who are disabled by a rare, neurological disease.
First year to provide bicycles for youngsters from distant villages who attend secondary school classes in La Carreta, north of Villanueva. They are temporarily using the primary school facilities on Sundays, until a permanent building can be added.
2013 – Second Day Camp for children with special needs generated many cherished moments for the 42 children and their caregivers/parents. One mother explained: "Here, the children are accepted for who they are; they feel self-confident, and that transfers into the classrooms and their homes."
A generous donation of gently used lap-top computers from Seattle allowed us to give computers to 4 of our scholarship students, and 3 to two rural high schools, preparing them for global communication.
Odontologist Rosa Amalia Reyes traveled with us to a distant village carrying a few basic tools and her skills to extract the rotting teeth of 3 patients with disabilities. Working in a rustic kitchen didn't disturb her, and the kindness was greatly appreciated.
One of the students receiving a scholarship this year is a 33 year old farmer, married with 4 children, who is able to begin the university studies he dreamed of since he was 18 years old.
2014 – Secondary school in Villanueva inaugurates computer literacy program with 17 donated, used computers. Outreach was made to farmers during the drought.
Our third annual day camp for special needs youth was held.